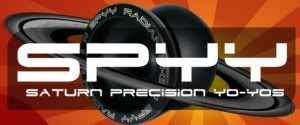 That's right!!  SPYY and CLYW have joined forces to design a new yoyo together from the ground up.  Two weeks before worlds Steve and I met up in Calgary to start on the design.  We wanted to make sure that it had features and personality from both companies so that it could be a true collaboration of both of our strengths … and I think we definitely accomplished that.
We're sorry, but you're going to have to wait for the finished product to see this yoyo, so hang tight.  All we can say right now is that it will have flowable silicone, large bearing, SPYY spikes and a very unique profile shape.
On this project helping out with artwork is a brilliantly talented artist and yoyoer from Brazil, Sid Seed … we're sooooooo excited and honoured to have him on board.  This is also Sid's first collab with a yoyo manufacturer, which makes this even more extra special.  We can't wait to see what he puts together for us!!
With the yoyo community being such a close knit group of people, working on collaborations together is a really great way to bring us closer together.  We're really excited for this release as it is bringing together the only yoyo manufacturers in Canada to create something special for all of you … so we hope that you will love what we came up with.  
… oh ya … the name … how could I miss that … haha
What name could combine both SPYY and CLYW better than: the Galactic Goose