We have two Limited Edition Wooly Marmots that will be released on the store soon.
The hop-u-san edition in Pink.
Apparently "hop-u-san" is a popular nickname for Jensen and his "hop-style" in Japan, so he really wanted to do something special artwork and laser engraving to celebrate this.  We also have some very exciting news to go along with this release:  Jensen will be joining Ryosuke at the 44Clash contest, which will be held on Sept 20-21st.  Can't wait guys!!  
Also available will be a Bronze Laser Engraved edition of the Wooly Marmot.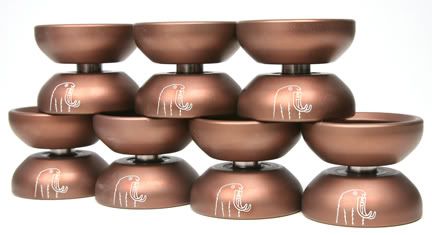 Jensen's favourite part about these yoyos being released is how good they look as a dual tone.  Oh my!!  Neapolitan ice-cream … yummm!!  So why not get both??