This month we did another colab with a company out of California, Fatlace.  They're a store/brand/live magazine out of San Francisco and are into everything that has to do with the culture of art, fashion, cars, and anything that has 2 wheels.  They've colaborated with the likes of Nike, Asics/Tiger, Adidas, Savier (RIP), Staple, ShortKut, DJXL, KicksHawaii, FTC, Recon, StrangeCo, EA Sports … and now CLYW.  Damn! 
 Photo courtesy of Fatlace
I was so excited when Mark at Fatlace contacted me to do a colab.  He really liked our style and wanted to do something together.  Mark designed the artwork for this limited edition Campfire, which was based off of a Sakura wheel pattern.  Two colours were done, 12 in black and 12 in green.  I kept a black one back for myself.  Had to!!  This is the illest return top out there.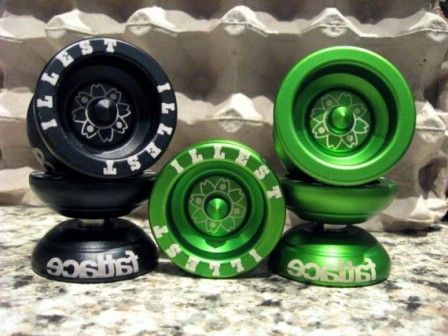 Photo by Me.
Yesterday YoYoFactory team member Paul Han was at Fatlace and showed those guys what's up with modern yoyoing with one of the illest return tops.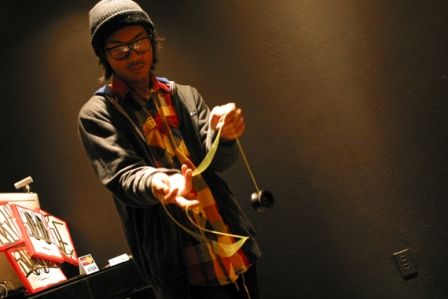 Photo courtesy of Fatlace
Not sure when these will be available, but stay tuned to Fatlace for more info.