It has been one year since we did the 1st prototype of Sebastian Brock's signature yoyo the Bassalope.  Unfortunately we ran into some obstacles along the way … but it's finally here!!  That's right the Bassalopes are on their way to YoYoNation!!!  I just shipped them today.  Only 58 will be available in the first release … we have more coming.  Just didn't get the batch size we wanted to start.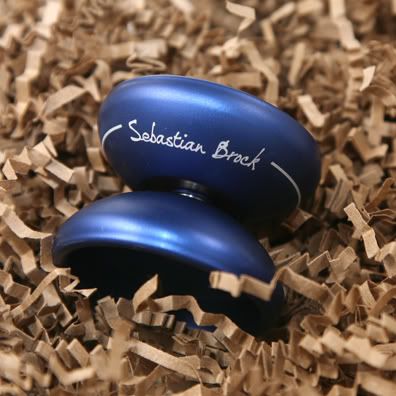 The Bassalope gave us some fun experience with experimenting with laser engraving.  We normally don't do laser engraving, as I like to keep things simple and let the yoyo design speak for itself.  So Sebastian really had to twist my arm to add some engraving, so we decided to do something subtle and classy for him.  I'm reallly happy with how it turned out.  We hope you do too.  
For more info on how the name of this yoyo came to be and to see some of the artwork behind this fabled fish check out Sebastian's Blog.