Thank you to everyone who submitted a video for Babe's Video Open.  This was a great success!!  We saw a lot of really interesting super creative neat stuff.  Great work everyone!!  Abe and John-Bot were the judges for this contest and they said they had a pretty hard time picking their favourite, but eventually they did come to an agreement.
Congratulations Ernest Kahn from the Philippines!!! Brilliantly done!! Loved your trick with the spinning wheel and the escolator walk the dog.
I unfortunately wasn't able to catch the Bassalopes in time so instead of a Bassalope you will be getting this Baby Blue Babe Bear vs Man (photo turned to sorta greyscale because I couldn't colour match).  1 of 4.  One for me, Abe, John-Bot and you!!  Artwork by Abe.
Here are some of Abe and John-Bot's favourite videos from the contest:
YORAD at the Pool Hall from Ian Anderson on Vimeo.
Ernest we'll also be sending you one of each of these Hudson's Bay Parkas …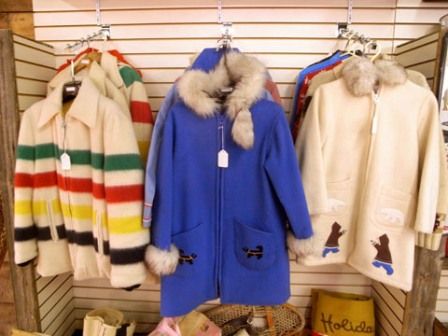 … hehe no I kid.
We're sending these Paul Bunyan and Babe statues that I found at the antique mall and that we used as props at the Royal Bison Craft and Art Fair. You just have to promise to send them to the winner of the next Babe's Video Open.  Also thanks to Savedeth, who have also sponsored this contest, you'll also be getting a copy of Savedeth Vol 2!!!
Thanks again to everyone that sent in a video.  Well done!!!   Thank-you Abe and John-Bot for doing such a great job with the artwork and theme.