Right before US Nationals Sebastian was featured in a news article at his college, the College of William and Mary.  It's a really great bio and goes into how Sebastian got into return tops, his local celebrity status and the beginnings of the Bassalope.  There is a short clip video and some really great photos as well.
Here it is: William and Mary News Article
Also if you haven't seen Sebastian's US Nationals 3rd place freestyle. You've GOT to check it out!!!! Soooooo GOOD!!!
To celebrate where the Bassalope came from we decided to do a run of Bassalopes with the original artwork that Justin Weber did that inspired the name Bassalope, for Mr. Sebastian "Sea-Bass" Brock.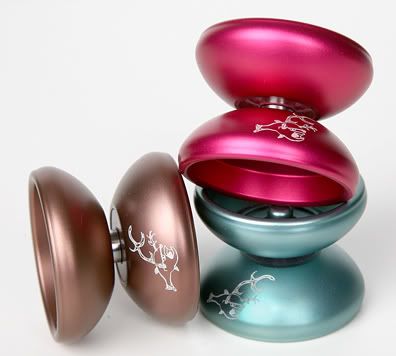 Photos by Natasha Paterson
These yoyos will be available at YoYoExpert and our store for $90each, but only the ice blue ones will be available at YoYoExpert.  The first launch will be at our store starting tonight at 11pm mountain standard time.
Unfortuantely there is a small issue with the Bassalopes we received with this run.  Some of you may have noticed that there was a bit of a price drop.  It's due to a small tiny dent that was created by the machining process.  It does not affect play and you really have to look hard to find them.  We figured that this definitely deserves a price break though.  See circled area in the photo below.   The mark is in the same place on each half, with only one per half.