2009 was an amazing year for CLYW.  We came into 2009 with 5 team members (Boyd, Sebastian, Jensen, Alex and Adam) and 2 production yoyos (Peak and Bear vs Man).  Then things just EXPLODED!!!  WOW I don't even know where to start.  We did soooooo much this year …
January: 
Adam Brewster placed 1st at Madfest in Wisconsin.
CLYW was featured in the Edmonton Journal.
February: 
Jensen came out of no where and placed 1st in 1A at PNWR in Seattle, which was a very exciting way for him to begin 2009 … We also brought on Charles to our team who placed 7th in his very first contest.
April:
Alex took 1st in 1A at Missouri States.
We added our 1st international overseas yoyoer to the team, the very talented Krisztian Kaluzsa.
May: 
The Peak, a return top ahead of its time that was designed in 2006 by Paul Wallace and I, was still a huge hit.  100 would sell out at YoYoNation in less then 20 minutes.  We were setting records left and right at YoYoNation with the fastest sellout of any return top.
Some of my favourite colourways were: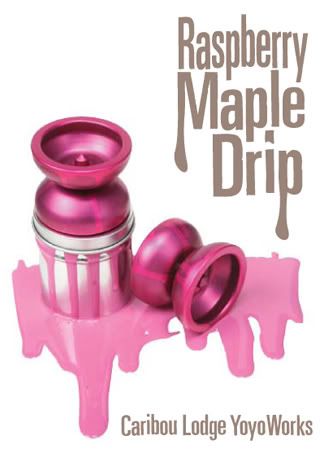 The Raspberry Maple Drip Peak

The Frozen Mammoth Edition Peak

Alex's Bearing-Gull Peak
Then BAC in San Francisco came around and Team CLYW dominated that contest.  Alex, Jensen, Sebastian, Boyd, and Charles were all in attendance.  Jensen placed 1st and Sebastian 2nd in 1A.  Boyd got 2nd in spintops (so proud of you!!). We also added return top prodigy Zach Gormley to the team the day before the contest. 
Around this time I also quit my engineering  job so that I could focus on CLYW full-time.
The leaders in the return top industry, YoYoFactory, were taking ques from us and started splash anodizing their return tops.
We had a lot of really exciting video and name that return top contests. Thank you to everyone who took the time to take part in these. We hope you had fun!!!
Here are some highlights:
CLYW Peak in my backyard from John Higby on Vimeo.

Polar Berry Marmot – Name Picked by Isaac Sams
June: 
We added Japanese laceration god Ryosuke Iwasawa.  He represented CLYW at Japan Nationals and had an amazing time.
Krisztian placed 2nd at UK Nationals with an amazing freestyle.
Sebastian placed 1st at NC States.
July:
Production models of Sebastian's Signature return top the Bassalope and Jensen Kimmitt's Signature return top the Wooly Marmot came out around the same time and instantly became favourites of many.

Hop-u-san Wooly Marmot

Special Edition SB Bassalope
Jensen's One Minute video that he did to prep for Worlds was featured all over the internet.
Save Deth Vol 2 DVD came out and featured Sebastian, Alex, Boyd, Jensen and Adam.  We still have a couple copies left at our store.
August:
WORLDS!!  Oh my!!  CLYW had an amazing representation there – Boyd, Sebastian, Alex, Jensen, Charles, Zach, and Krisztian.  At worlds we added Hadrien Bennaceur from France to our team.  Jensen placed 4th, Alex 6th and Hadrien 13th in 1A.  It was so nice to be able have the whole team together.  We had a blast!!!
September:
We added the infamous Elliot Jackson to our team!!
Jensen placed 1st and dominated the pack at 44 Clash in Japan. I still haven't seen this freestyle, but word on the street was that he used a responsive return top and finished off his freestyle with a creeper!!!
Due to our growth the exclusive with YoYoNation ended and allowed us to start selling to stores around the world. 
We did a very successful run of Bear vs Man return tops that sold out instantly at all stores (same as the Peak this return top was also designed in 2006).
October:
AT US Nationals Sebastian, Alex, Boyd and Zach were all there representing CLYW.  Sebastian ended up taking home 3rd in 1A.  Alex got 10th in 1A and took home the Mark Sitton Sportsmanship award.
Hadrien placed 2nd at the German Masters with a very impressive freestyle.
Our 5th return top came out as well this month, the Campfire. 
Photo By Natasha Paterson
CLYW was featured on an Industrial Design blog called Yanko Design, where we did a fun return top give away.
The Galactic Goose, which was a colab between CLYW and SPYY came out.  It was so much fun working on this project with Steve and artwork designer Sid Seed.
November:
This was a very exciting month for CLYW. 
Jensen got flown out by the IYYA and CYA to be a guest at the Italian and Czech National contests.  In Prague at Czech Nationals Jensen placed 1st in 1A in the international category.  Krisztian got 2nd with a sweet freestyle and Hadrien got 4th.  Prelims was a CLYW sweep!!!!
CYYN 2009 – International 1A – 1st – Jensen Kimmitt from CzechYoyo on Vimeo.
We added the amazing powerhouse duo Abe and John-Bot to our team.  They organized Babe's Video Open, which was a great success.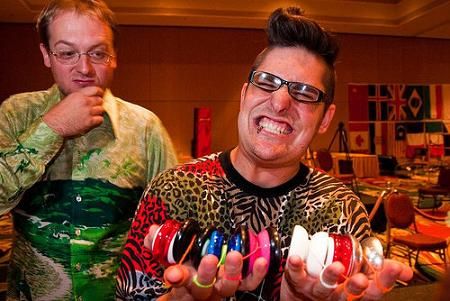 YoYoExpert released their trading card series featuring 4 CLYW team members: Jensen, Sebastian, Alex and Zach.
Paul Escolar paid the lodge a visit and helped out with the Royal Bison Craft and Art Fair … and then he sadly left the day before it reached -25C.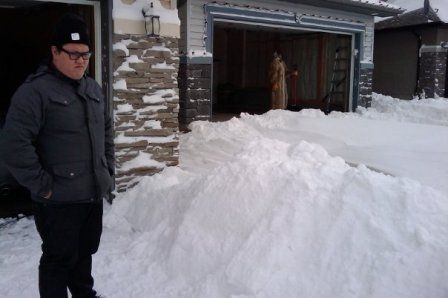 The Large Bearing version of Sebastian's signature return top the Bassalope came out and was a instant hit.  Here's a shot of the special edition we did for YoYoZ called the Caribou Queen.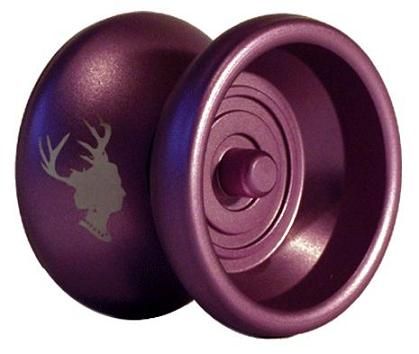 December:
We had the opportunity of colaborating with BTNC and Fatlace, two urban culture stores out of California, on some custom limited edition return tops. They both independently contacted us to see if we'd be interested in working together. I'm really pleased with what we came up with.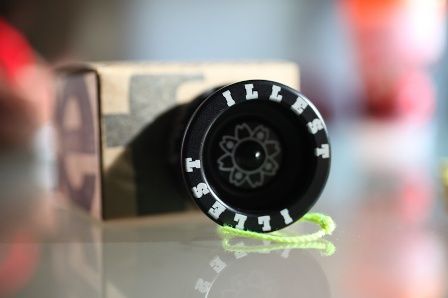 Krisztian placed 1st at SRC in the UK.
The illustrious Icelandic yoyoer Palli joined CLYW!!
Elliot came out with a very professionally well done HD video Canopy. It had me sitting on the edge of my chair the whole time.
Canopy from Elliot Jackson on Vimeo.
Thank You!!!!
I'd like to thank everyone for your support this year, without you CLYW would not be where it is today. 
I'd especially like to thank – all the yoyo stores that we have been working with this year, our vendors and machine shops, Mitch from BTNC, Team CLYW – each and everyone one of you guys – thank you for all of your hard work this year you are what keeps this company going, Seth from Save Deth, Adam Hunter and Ian Anderson for coming up from Calgary to help with assembly, Natasha Paterson for your photography, graphic design and assistance with running CLYW behind the scenes (I wish you luck with Whiteout Workshop and BirdOnWire!!!), Levi McCarroll for your help with designing the Wooly Marmot and LB Bassalope and for late night box stamping, Paul Escolar for being amazing and a great friend, Steve from SPYY for always being there for me, Steve Brown for the sweet business card design, Jensen Kimmitt for all of your amazing artwork and for being such a great representative for CLYW on your journeys around the world, my Mom and Dad for believing in me when I told them I quit my engineering job to work on return tops, and Yogi for always keeping me company and for making sure I get outside LOTS.
TEAM CLYW 2010 is:
Boyd Seth – USA
Sebastian Brock – USA
Alex Berenguel – USA
Jensen Kimmitt – Canada
Adam Brewster – USA
Charles Haycock – Canada
Krisztian Kaluzsa – Hungary/UK
Zach Gormley – USA
Ryosuke Iwasawa – Japan
Hadrien Bennaceur – France
Elliot Jackson – USA
John W. Robot – USA
Abe Ziaimehr – USA
Páll Guðmundsson (Palli) – Iceland
What's in store for 2010???
– Alex Berenguel's Signature return top The Sasquatch
– The Gnarwhal
– The Chief
– Custom colours specially developed by our anodizer to match special pantone colours.
– More special edition return tops for your favourite CLYW team members.
– And we'll just have to wait and see … (crossing my fingers for a plastic return top!!!)
HAPPY NEW YEAR EVERYONE!!!!